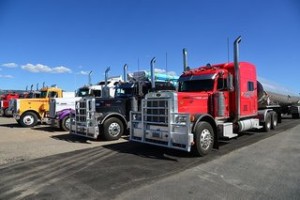 Rick Kagamaster, 63, of Irvine, was killed in a San Bernardino County truck accident the afternoon of August 9, 2015.
According to a news report in The Orange County Register, the fatal motorcycle versus truck accident occurred at the 18 Freeway and All View Drive in Running Springs.
California Highway Patrol officials said the driver of the truck, 20-year-old Oscar Eduardo Garcia, ran a stop sign and caused the collision.
He was booked for investigation of vehicular manslaughter.
Garcia was driving a 2006 Freightliner southbound on All View Drive when he ran the stop sign at the intersection and collided with the Kagamaster's 2002 Honda Goldwing, which was eastbound on 18.
The motorcycle struck the right side of the big rig and he was subsequently run over by the right rear wheels.
Our heartfelt condolences go out to the family members and friends of Rick Kagamaster for their tragic loss. Please keep them in your thoughts and prayers.
Motorcycle Accident Statistics
There were 11 fatalities and 142 injuries reported as a result of motorcycle accidents in the unincorporated areas of San Bernardino County, according to CHP's 2012 Statewide Integrated Traffic Records System (SWITRS).
Countywide, 30 people died and 470 were injured due to motorcycle accidents during the same year.
Stop Sign Violation
Based on this news report, it appears that the driver of the big rig ran a stop sign at the intersection, causing the fatal collision. California law requires drivers to come to a complete stop at a stop sign and proceed with caution.
According to California Vehicle Code section 21802 (a): "The driver of any vehicle approaching a stop sign at the entrance to, or within, an intersection shall stop as required by Section 22450. The driver shall then yield the right-of-way to any vehicles which have approached from another highway, or which are approaching so closely as to constitute an immediate hazard, and shall continue to yield the right-of-way to those vehicles until he or she can proceed with reasonable safety."
Liability Issues
In this particular case, the truck driver and trucking firm can be held liable for the victim's wrongful death.
Such claims are filed by survivors of the decedent and seek compensation for medical expenses, funeral costs, lost future income, loss of companionship and pain and suffering.
An experienced San Bernardino truck accident attorney will be able to stay on top of the official investigation and help preserve the evidence that could prove invaluable for the case.
In a truck accident case, driver logs, cell phone records and vehicle maintenance record must be preserved. The vehicles should also be preserved for a thorough examination by an accident reconstruction expert.
The best personal injury law firms will always offer a free and comprehensive consultation to injured victims and their families.