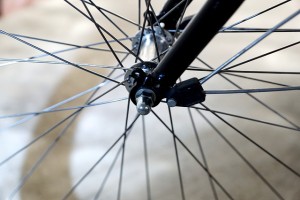 A male bicyclist suffered a serious head injury in a DUI hit-and-run crash in Anaheim.
The Orange County Register reports that the incident occurred the morning of September 20, 2015 at the intersection of West Sycamore and North Clementine streets.
The bicyclist was transported to a local trauma center where he is said to be in critical but stable condition.
The driver fled the scene.
But authorities soon after found the Mitsubishi Eclipse, the hit-and-run vehicle, abandoned on a street not far away. The driver, a 17-year-old male, was arrested on suspicion of felony driving under the influence and felony hit-and-run.
The investigation is ongoing.
Our thoughts and prayers are with the critically injured bicyclist. We wish him the best for a full recovery.
DUI Crash Statistics
According to California Highway Patrol's 2013 Statewide Integrated Traffic Records System (SWITRS), there were six fatalities and 188 injuries reported as a result of DUI collisions in Anaheim.
In Orange County as a whole, 60 people died and 1,235 were injured due to alcohol-related collisions during the same year.
Violation of Laws
Based on this news report, it appears that a number of laws were violated here. First of all, the driver was underage and under the influence of alcohol. Secondly, he was operating a motor vehicle under the influence. He struck and injured the bicyclist and fled the scene of the crash, which is illegal under California Vehicle Code Section 20001 (a).
California Vehicle Code 20001 (a) states: "The driver of a vehicle involved in an accident resulting in injury to a person, other than himself or herself, or in the death of a person shall immediately stop the vehicle at the scene of the accident."
Justice for Victims
In such cases were negligence and wrongdoing are involved, in addition to facing criminal charges, drivers can also be held financially responsible for the victim's injuries, damages and losses. Injured victims can seek compensation for damages including medical expenses, lost wages, hospitalization, rehabilitation, permanent injuries, pain and suffering and emotional distress.
Injured victims would also be well advised to contact an experienced Anaheim personal injury lawyer who has been successful in financially pursuing DUI drivers. The best personal injury law firms will always offer a free consultation and comprehensive case evaluation to injured victims and their families.