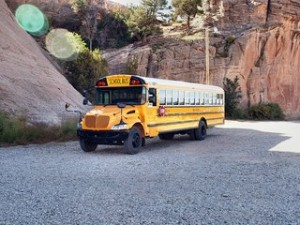 Two students were injured in a school bus accident in Anaheim after the bus in which they were traveling collided with two other crashed vehicles at a street intersection.
According to a news report in The Orange County Register, the injury collision occurred the morning of September 17, 2015 near East La Palma Avenue and North Pauline Street.
California Highway Patrol officials said a stake bed truck, a Honda Civic and the school bus, which was filled with 47 students, collided.
Two students, 9 and 10, complained of pain. One may have hurt his leg, officials said. The students were treated for non-life-threatening injuries.
The remaining students were taken to their destination by a different bus. Officials are still looking into what caused this school bus accident.
We are relieved to note that there were no life-threatening injuries in this crash. We wish the children who were injured the very best for a speedy and complete recovery.
Crash Statistics
There were 18 fatalities and 2,244 injuries reported as a result of traffic accidents, according to the California Highway Patrol's 2013 Statewide Integrated Traffic Records System (SWITRS).
In Orange County as a whole, 165 people died and 13,387 were injured due to traffic collisions during the same year.
What Caused This Crash?
Based on this news report, it is unclear as to who or what caused the crash. We do know that it occurred at an intersection. There are several unanswered questions here.
Did one of the drivers run a red light or fail to yield the right-of-way at the intersection? Did alcohol or drugs play a part? Was one of the drivers distracted or fatigued? Did excessive speed play a part in this collision?
We trust officials are looking into these and other issues in order to determine precisely what occurred here and why.
Fault and Liability
In such cases, the at-fault party can be held liable for the injuries and damages caused. Injured victims in such cases can seek compensation for damages including medical expenses, lost wages, hospitalization, rehabilitation, pain and suffering and emotional distress.
Injured victims in such cases would be well advised to contact an experienced Anaheim personal injury lawyer who will stay on top of the official investigation and ensure that their legal rights and best interests are protected.
The best personal injury law firms will always offer a free consultation and comprehensive case evaluation to injured victims and their families.