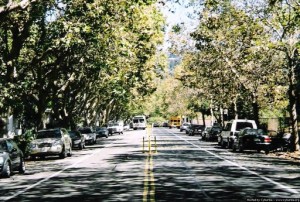 An apartment balcony collapsed early morning June 16, 2015 in downtown Berkeley, killing six people and injured at least seven others, many of them young people from Ireland who were celebrating a friend's 21st birthday.
According to an NBC news report, the balcony on the top floor of the four-story Library Gardens apartment building at 2020 Kittredge Street detached from the wall sending victims tumbling to the street.
Four people died at the scene and two others succumbed to their injuries at a local hospital.
The deceased were identified as Ashley Donohoe, 22, of Rohnert Park and Irish nationals Oliva Burke, 21, Eoghan Colligan, 21, Niccolai Schuster, 21, Lorcan Miller, 21, and Eimear Walsh, 21.
We offer our deepest condolences to the family members of these deceased victims who suffered such a tragic and untimely death.
We also wish the injured victims the very best for a speedy and complete recovery. Please keep these victims and their families in your thoughts and prayers.
We hope all affected parties seek and obtain grief counseling and other support they need during this critical time.
Ongoing Investigation
City officials have red-tagged three similar balconies at the apartment complex out of concern that they may not be structurally sound.
Officials are also still looking into what caused this fatal balcony collapse.
The property consists of two buildings completed in 2006 and 2007, owned by Granite Library Gardens LP.
The building is marketed as a "premiere choice for convenient Berkeley apartments" and units rent for between $2,150 and $4,000 a month.
Premises Liability Claim
We trust building investigators are looking into precisely what caused the balcony collapse.
Was the balcony structurally unsound? Was it not constructed to code? Were there repairs the apartment manager or owner should have known about, but failed to make?
In such cases victims or families of deceased victims can file what is known as a premises liability claim against the building owner/manager seeking compensation for damages and losses.
Injured victims or their families would be well advised to seek the counsel of an experienced California personal injury attorney who has successfully handled premises liability claims.
Those who have been injured can seek compensation for damages such as medical expenses, lost wages, hospitalization and rehabilitation costs, permanent injuries, pain and suffering and emotional distress.
Families of deceased victims can seek compensation for their losses by filing a wrongful death claim.