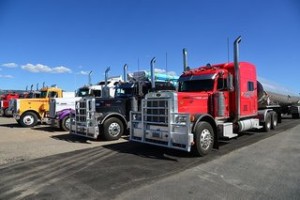 A distracted truck driver caused a multi-vehicle crash on the eastbound 91 Freeway in Riverside, that left three people hospitalized and four cars badly damages.
According to a news report in The Press Enterprise, the crash occurred the afternoon of October 15, 2015 on the freeway west of Central Avenue.
California Highway Patrol officials say Leonardo Rodriguez, 55, was driving a 1996 Freightliner when he took his eyes off the road to look for a water bottle.
When his eyes returned to the road, he realized traffic ahead had slowed. But it was too late and he couldn't stop.
Several Injuries
The big rig rear-ended a 1999 Nissan Sentra driven by 18-year-old Celeste Torres. The Sentra in turn struck a 2015 Ford F-150 driven by 36-year-od Kenneth Turney. Torres sustained moderate injuries. The truck also struck a Chevy Camaro as well as a Suburban driven by 29-year-old Mark Kent and Antonio Cardenas, 47, respectively.
Cardenas, whose vehicle rolled over, suffered non-life-threatening injuries. The truck then struck and came to rest on top of a 2011 Chrysler 200 trapping driver Kiston Williams, 23. Williams suffered critical injuries. One other person was also injured and transported to an area hospital.
Our thoughts and prayers go out to all the injured victims of this multi-vehicle crash. We wish them all the very best for a speedy and complete recovery.
The Dangers of Distracted Driving
This incident is an example of how any form of distracted driving can be dangerous. While the most common driving distractions we encounter today involve our cell phones, other more traditional forms of distraction can also be extremely hazardous.
Any activity that takes your eyes off the roadway, hands off the wheel or mind away from the act of driving is defined as a distraction. This includes activities such as eating, drinking, reading, grooming, applying makeup, etc. California laws prohibit drivers from engaging in any type of distracting activity while driving.
Liability Issues
In this particular case, the injured victims can seek compensation for their damages potentially from the truck driver and the trucking company (the driver's employer). Injured victims can seek compensation for damages including medical expenses, lost wages, hospitalization, rehabilitation, permanent injuries, pain and suffering and emotional distress.
Victims in such cases would also be well advised to contact an experienced Riverside personal injury lawyer who has successfully handled truck accident cases.