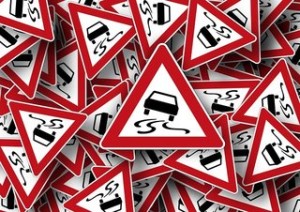 Sergio Lugo, 23, Juan Jesus Gutierrez, 26, and Guillermo Enrique Belman-Sanchez, 22, were all killed in a San Juan Capistrano car accident following a violent head-on crash.
According to a KTLA news report, a Ford Focus traveling northbound on Camino Capistrano collided with a Black Honda Accord.
Officials say the Ford was traveling at a high rate of speed, crossed over double yellow lines and collided with the Honda, which was traveling in the opposite direction.
Tragic Collision
Lugo, who was driving the Ford, Gutierrez, a passenger in the Ford, and Belman-Sanchez, the driver of the Honda, were all pronounced dead at the scene In addition to the three fatalities, a man and woman were injured and a dog was also killed.
Two others were extricated from the Honda and transported to an area hospital in critical condition. Investigators have not yet determined whether alcohol or drugs played a role in the incident.
Police are urging eyewitnesses to call them at 714-647-7000 or 949-425-1860.
We offer our deepest condolences to all the victims of this crash and their families. We wish those injured the very best for a quick and full recovery.
Please keep all those who have been affected in your thoughts and prayers.
Crash Statistics
According to California Highway Patrol's 2012 Statewide Integrated Traffic Records System (SWITRS), there were three fatalities and 126 injuries reported as a result of car accidents in San Juan Capistrano.
In Orange County as a whole, 148 people died and 14,029 were injured due to traffic accidents during the same year.
Protecting Victims' Rights
Based on this news report, it appears that the driver of the Ford Focus was speeding at the time of the crash.
California Vehicle Code Section 22350 (Basic Speed Law) states: "No person shall drive a vehicle upon a highway at a speed greater than is reasonable or prudent having due regard for weather, visibility, the traffic and on surface and width of, the highway, and in no event at a speed which endangers the safety of persons or property."
In such cases where serious or critical injuries are involved, families of victims are often faced with mounting medical bills and other related expenses. Families of deceased victims, in addition to the grief of losing a loved one, are faced with funeral and burial expenses.
It would be in the best interest of victims and families in such cases to seek the counsel of an experienced Orange County personal injury lawyer who will help them pursue their legal rights and provide them with the support and counsel they need during this difficult time.